Easter egg decorating, cupcakes, baskets, Easter egg hunts oh my. We had a wonderful weekend. The weather was fairly decent (around 50-60 degrees) so we actually got to go outdoors and run around. It really was a wonderful time. Not only were the kids sleepy, but the mommies, the daddies and the Grandma and Grandpa's too! Please enjoy a few of my captures for today.
Shutter Love: Easter
Hmmm....where might the next Easter egg be hiding. Hannah really can please a crowd. We all would stop and stare at her adorable gestures. She is just priceless.
Simplicity: Pets
Meet Bones. If you have yet to see or hear about our dog he really is a great guy. He is a rescued dog and we love him. We have had him for almost 10 years now and our girls enjoy dressing him in necklaces, hats, crowns, shoes (you name it) and telling him what to do. He is either following them around or hiding from them. You might also find him sneaking snacks from the kids.
Original
I still like the original capture, but I wanted to lighten the shot up a bit because of the shadows on their faces. I think it brightened maybe a smidgen too much. What do you think?
This shot is from late last week and I just love how Lorelei is genuinely happy. Her hair is a mess because we have been playing and running in the yard and she is simply happy. I usually capture the "cheese" smile from Miss Lorelei.
Perceptive Perspective: Macro
"Bubbles, bubbles on my nose. Bubbles, bubbles on toes. Bubbles, bubbles float on top. Bubbles, bubbles pop, pop, pop." A loosely based quote from a book all about Elmo.
Also, because Bubbles and My Family make me very
Oh, the sweet joys of childhood and mama hood, and daddy hood. Heck we all enjoy bubbles.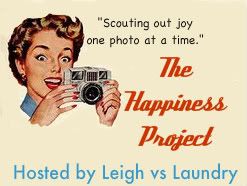 Don't forget to check out Communal Global to see what is going on all around the world. There truly are some beautiful photography that has to be seen. Enjoy!