Hello all. I have been very preoccupied with a brain going non stop. I am preparing for
Theme Thursday
tomorrow. Oh, by the way you participants ROCK! You guys are all awesome. Tune in tomorrow because Jenn and I are working on winner buttons! We definitely had enough entrants to make a top winner. (Which, by the way the winner has been chosen! Woohoo. Come back tomorrow to see. We'll choose a top five as well.) Anyhoo, in light of my lack of preparation but need to share I have blank inspiration for you today. I hope you like it!
Look at that lake! Ah. Gorgeous. Summer is almost here.
Inspiration? Yes? No? Well, obviously my shutter was way too slow for ballet. I have been having a lot of 'whoops' moments lately using manual. Here's one I thought might actually be cool as a theme one week for
Theme Thursday
! Slow Shutter. Maybe catching some action. Does anyone know what this is called? (If I try this again for a theme I will try to catch a bit more of Lorelei and less of a blur, but I think it's pretty cool.)
Feel free to "steal" that lake photo above for whatever. If you use it just note me as your source and link it to me. Maybe you can play with it. Layer it and add a boat or something funny or beautiful. Have fun!
You know what. If you've participated you should be awarded. Participation is certainly reward-able.
Grab it!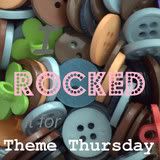 I'm in a good mood people. Good mood. Oh, I can't forget. If you have any theme ideas leave them in this posts comments. I'd love to check them out!
linked up with
Project Alicia
and
Paper Mama
. Check them out!