Todays captures are really about that cheesy saying you may have heard (or is it more of a mantra?) "Live, Laugh, Love." Well, we're certainly living. That's for sure, Miss Hannah is definitely laughing and Miss Lorelei is definitely showing off some love. I hope you like my captures. Please enjoy.
Shutter Love:
Hearts
Lorelei came running up to me to show me that her dolls hands put together make a heart. "Quick mom! take a picture." I love how this shot shows how creative, loving and smart my beautiful daughter is.
Happiness Project:
Hannah and I were chasing each other around the house and she would tag me and I would tickle her. We were having a wonderful time and I even captured some of her super laughs! I hope you like it.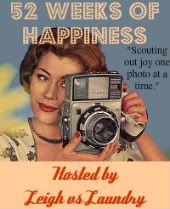 Today I am linking this up my first shot at
Trendy Treehouse
's Shutter Love Tuesday for Hearts and linking up with
Leigh vs. Laundry
for The Happiness Project because my girls certainly make me happy.