Last week was all about
desserts
. Yum. I almost regretted the theme because I was not only having a hard time choosing, but I wanted to bake, make and eat all of them. Wonderful work everyone and great photography.
I Take Pictures
seems to always take my breath away with wonderful photography which I didn't get to feature this week. Also,
Allison Hoffman's Photography'
s capture reminded me of when I was a kid and would sneak into the kitchen for a slice of delicious angel food cake. I really enjoyed all of your captures last week. Thank you again for participating and if you didn't get the chance last week we would love to see what you have for us, but first lets take a look at last weeks shots with a winner and a couple features!
Winner!
I feel like I'm at a party when I look at this capture. The colors are wonderful, the feeling is magnificent and photography is great. Oh, and did I mention it makes me hungry. Yum.
Snappin' Eyecandy feel free to grab your winner button!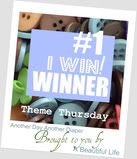 Features!
I really love this capture because of the colors, the crisp photography and the depth of field is fantastic. This capture is wonderful all around. Nicely done.
I love how basic and calm this capture is. I know Becky said it wasn't her best photography, but I love how she pushed herself out of her comfort zone while her family goofed on her for taking the shot of a cupcake. Plus, the shot reminds me of cupcakes at our house. I love the homey, comfortable feel of this capture.
Feel free to show off your button!

Now onto
Theme Thursday
this week which is all about the Momma's. If you are a mommy, have a mommy or want to celebrate moms please join in. This weeks Theme Thursday is Something for Mom. This doesn't have to be a capture of an actual gift, but it can be something from the heart. Feel free to dedicate your capture to your mom or moms all over or share a shot of something that reminds you of your mom. Maybe you have a capture of your mother's day or simply a capture of something you do to distress from your mommy filled days. Share away. First off, Jennifer and I will share our captures for Something for Mom to give you an example of two different views and interpretations of todays theme.
Something for Mom
by Another Day Another Diaper
Something for Mom by A Beautiful Life
So what do you think? Link up if you'd like. Sharing is always the right thing to do. At least that's what I tell my kids. Don't forget to pick up your button before you leave. Also, be sure to take a look at Jennifer's blog. She has a lot of wonderful captures, recipes and fun kids stuff too!
Have fun and thank you for participating!
Remember to grab your button before you go!

Next weeks theme

is Love.
Look Here

for future themes and details.
If you haven't yet, take a look at A Beautiful Life to see her featured photographs.
Powered by Linky Tools
Click here
to enter your link and view this Linky Tools list...