Hello all. I apologize for last weeks technical difficulties. Feel free to link up double for last weeks Something for Mom if you didn't get the chance to. If I get a few link ups for both weeks I will host a feature for Something for Mom as well as this weeks theme Love. Lets get on to last weeks Something for Mom winner!
Winner!
The crop, color, and textures are all wonderful in this photograph. I love this hand made flower given to mother by daughter. Perfect.
Grab your button!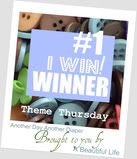 Onto
Theme Thursday
Love. Please share! (I am leaving it open without features this week just in case we have some extra entries this week with last weeks entry. Does that make sense?)
Love by Another Day Another Diaper
Love by A Beautiful Life
So what do you think? Link up if you'd like. Sharing is always the right thing to do. At least that's what I tell my kids. Don't forget to pick up your button before you leave. Also, be sure to take a look at Jennifer's blog. She has a lot of wonderful captures, recipes and fun kids stuff too!
Have fun and thank you for participating!
Remember to grab your button before you go!
Next weeks theme

is Architecture.
Look Here

for future themes and details.
If you haven't yet, take a look at A Beautiful Life to see her featured photographs.