First and foremost lets talk about the winner and the features from last week. Thank you so much for participating and sharing your shot to compare with us! It's fun to see how everyone interprets the theme. I want to mention
The Franklins
and tell you to take a look. I loved the interpretation last week! Also, if you didn't get the chance to link up we're open from Thursday (usually I post late Wednesday) all the way until 11:59 on Tuesday. Okay, now onto the Winners and my features for
Signs
!
Yes, I realize this is a momma site and I put up a tattoo sign as the winner, but how could I not have! The color and the textures in this shot are phenomenal. The angle and the composition is quite nice as well.
Feel free to grab your winner button!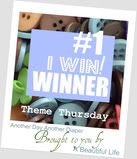 Features!
The backdrop to this sign is fantastic. Okay, the sign is pretty fantastic too! Great focus and great shot!
I love this great and simple sign sitting out on the brick sidewalk. I feel like I was on the walk taking this shot too. Nice work!
Feel free to show off your feature button!

Dessert. Snacks. Deliciousness. Onto
Theme Thursday
with desserts. My husband bought a few frozen snacks and this little guy gets melted and ice cream tops the warmed brownie. It wasn't easy photographing and not munching, but it was yummy once I got that bite in.
Dessert
by Another Day Another Diaper
Dessert
by A Beautiful Life
So what do you think? Link up if you'd like. Sharing is always the right thing to do. At least that's what I tell my kids. Don't forget to pick up your button before you leave. Also, be sure to take a look at Jennifer's blog. She has a lot of wonderful captures, recipes and fun kids stuff too!
Have fun and thank you for participating!
Remember your button before you go.

Next weeks theme

is Something for Mom.
Look Here

for future themes and details.
If you haven't yet, take a look at A Beautiful Life to see her featured photographs.
Powered by Linky Tools

Click here to enter your link and view this Linky Tools list...